What is Your Credit Score??
"CHECK YOUR CREDIT SCORE FOR FREE"       "GET YOUR CREDIT REPORT FOR FREE"
AS USUAL ANOTHER AD POPS UP WHEN BROWSING.
Alright, BUT WHAT DOES CREDIT SCORE OR THIS REPORT EVEN MEAN TO US..
Lets see what this is all about and get down to the basics in simple terms.
Credit score basically is an indicator of our credit worthiness. That is ,the ability of a person to pay
back the borrowed amount.
Its often a 3 digit number ranging from 300-900 in which the higher number or the score being
closer to 900 indicates a good credit score. higher the chances are for you to get a good deal for
availing the loan as well as getting a credit card..
Let's take a look at the different credit score range:
NA/NH : In order to calculate your credit score, you need to have a credit history. If you have no credit
history, your credit report will mention that your credit score is NA/NH.
300 -550 : considered as a poor credit score. It suggests that you have defaulted your payments and
have unpaid dues.
 550-650 :  considered as average credit score and its better to take steps to improve your score.
650-750 : A credit score is this range is considered as good and lenders will consider granting you
credit in the form of loan or credit card. However, you might still not be in the position to negotiate for
a good deal.
750-900 : With a credit score in this range, you will be less likely to turn as a defaulter and lenders will
be willing to offer you with a great deal for loan as well as credit cards. A credit score in this range also
gives you the additional power to negotiate for better deal in terms of credit card rewards and interest
rates.
Who calculates our credit scores then??
Basically credit information companies compute these information.
In India, there are 4 such companies namely CIBIL Trans Union, Experian, Equifax and High Mark.
Cibil is the most popular of the lot since they started their operations first in India.Although all 4 of these
agents compute the scores differently, no matter which agency your bank chooses to check your credit
score, there wont be significant variations between them.
There is a widespread belief that cibil score is the best of the lot and that they give a more accurate score
(owing to the popularity),however this is not true .Banks do give equal importance and weightage to
these scores.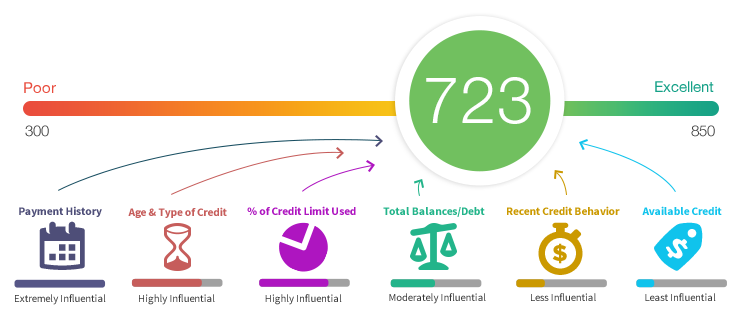 How do these companies get to know our transactions and then compute our
score??
Whenever we make a financial transaction,the banks sends the data about the same(if its relevant to the
credit score) to all the credit agencies as mandated by the reserve bank of India. So these credit agencies
have a know-how of our financial habits and discipline.And when a time arises for the bank to check the
credit score,they can approach whichever agencies they like. After receiving information from the bank,
credit bureaus get down to the task of collecting more information about your financial habits from other
banks and financial institutions. The credit bureaus then processes this information to formulate what is
called a Credit Report..
Credit report contains our credit score and details pertaining to the score,factors taken into account and
how they influence the score.
WHY SHOULD WE BOTHER ABOUT THE CREDIT SCORE?
Credit score though not the sole/determining factor is used as an indicator to assess creditworthiness of
an individual by institutions like banks,NBFC's etc.
For an individual,it is the best way to guess his/her chances of getting a credit card,a loan or any sort of
credit line.
Also periodically tracking credit score will help us to take corrective measures in case it dips.
So is credit score the decider whether or not you will get loan?
Contrary to popular beliefs,this is not true.
It gives the bank an idea about the credibility and creditworthiness of the individual. It is an important
factor considered by banks while deciding about your loan or credit card application.it also determines
the interest rate the bank or financial institutions offers you.Higher the creditscore,better your chances
of a lower interest rate making the deal sweeter and cheaper for you.
In the next article,lets discuss how to create a credit history to fire up your credit score(in case you don't
have a credit score) or ways to improve the credit score if its on the lower side.
Do check your credit score below and don't forget to comment your credit scores below.
https://www.cibil.com/freecibilscore
https://www.freescoreindia.com/
Feel free to comment,ask queries.